The Conveyor install provides three Revit addins for supporting the Rhino-to-Revit workflow. After installation, these commands can be found under the "Proving Ground" tab in the Revit ribbon: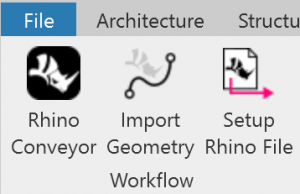 Rhino Conveyor – The primary dockable window for managing imports and element updates
Import Geometry – A utility for one-time imports of curve and point geometry into Revit documents and families
Setup Rhino File – A utility for exporting a Rhino 3DM file from Revit containing level and grid datums and Conveyor layers with the document families.
---
Rhino Conveyor
The Rhino Conveyor command will launch a "dockable" Revit UI for selecting Rhino 3DM files and managing imports and updates to objects.
---
Import Geometry
The Import Geometry command functions in both the Revit Document and Family environment. The utility enables one-time importing of curve and point geometries that can be used for datum or other coordination.
---
Setup Rhino File
The Setup Rhino File command allows users to save a 3DM containing Revit project datums such as Levels and Grids for coordination. The 3DM will also contain a Conveyor layer structure with listings of Wall, Floor, Roof, and Structure family types present in the document. This utility is helpful for initial project coordination and origin alignment between documents.